People's Stories
FROM THE SCOTTS
The story so far:
Thank you Kalymnos!
Glossy brochure, new island, summer holidays here we come, or so we thought until the travel company went under. Where now we asked each other?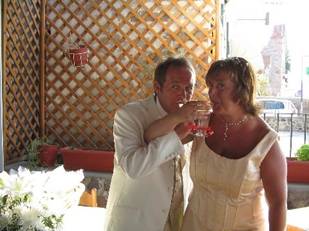 So why not try an island not many people have heard of " LESVOS or LESBOS, who knows which it is but we were prepared to give it a go. Next challenge which resort? Four to choose from & all in the north, so let's see. We wanted something with a centre, a square a meeting point so Anaxos was out. Molyvos looked so picturesque with its floodlit castle & pretty harbour but upon closer inspection you'd have
to be a mountain goat to get about, I wouldn't like to be a postman there!! Skala Kalloni apart from it been the centre of the north didn't appeal to me as it wasn't what appeared to be on the coast more on a lake, so that left Petra. We'd hit the jackpot, process of elimination really does work, typical Greek beach town one road in one out & the beach on one side of that road. Tavernas running the length of the village & yes we even had what we wanted in a square, where everything happened all through the day & night, where we could sit with a glass or two & watch the sun set once it had gone down past the yardarm, what a sight, in our opinion better than Mallory square in Key West.
We first contacted Dimitra in 2004 through her Travel Agency in Lesvos:
www.lesvos-ecotourism.com , when we wished to get married in Petra on the island of Lesvos. At that time we had never met Dimitra or Vaios ( proud owners of Hibiscus Travel / Real Estate & Madonna Studios in Lesvos , GR ) before, and with some trepidation we contacted her to see what we needed to do. Dimitra made everything so simple and straight forward it was like we had known each other for years. We even met in Slough, as I was working in Reading and Dimitra was over on a business trip in the UK.
Our wedding day was finally here and like most people we wanted it to be the most memorable one of our lives. The wedding was a relaxed affair as much as it could be with 28 friends & family attending. Dimitra helped out with all the paper work that went on before hand and even on the day she was there to give us guidance as the mayor and registrar spoke to us in Greek, and Dimitra was there at our sides throughout. Without Dimitra & Vaios we wouldn't have had a clue and for that we are both eternally grateful. .
But the story doesn't end there after our wedding day we became friends, we returned to Lesvos on numerous occasions we always gave Dimitra & Vaios a call and whether we travel down to Vatera or if Dimitra has business in the north of the island we met up for a meal and a gossip. On one of our usual trips we mentioned to Dimitra about looking for houses on Lesvos as David (my husband) was retiring in early in 2009, and as they say this was to start a chain of events that we could not believe, we were defiantly on a crest of a wave that we are still riding... and still loving!!
Dimitra also runs an Estate Agency www.greekislandsproperty.com with property listings for the whole island. We met and started house hunting and after looking at houses in Polichnitos which is a beautiful area in the south of the island near to Dimitra and Vaios in Vatera, the rest of the properties we looked at were in the north of the island at Lafionas, Vafeios & Molyvos. This was because we had been coming to Lesvos for about 15 years at that time and had many friends in the town of Petra.
Dimitra showed us a house which had been modernised in Molyvos which she had on her books and even if it was slightly over our budget we fell in love with it immediately and asked Dimitra to contact the owner to set the ball in motion. Unfortunately for us and Dimitra the owner was double dealing and in the end sold the house privately to another person while he had accepted our offer. Dimitra was so upset for us and that just proved to us we weren't just clients but friends.
Lucky for us we had Dimitra on our side and kept in touch over the next few months. On our return to Lesvos we set off again. Dimitra did come up trumps with the next house she had in mind for us, it was a traditional stone build house with beautiful view over the bay in Molyvos but required modernising so we could put our own mark on the property. Dimitra & Vaios introduced us to Stratis a local architect who told us that the property was sound, which again without the guidance of Dimitra & Vaios we wouldn't of had a clue.
We went with Dimitra to her local bank and opened joint bank account with her; we also gave Dimitra power of attorney to act on our behalf while we were back in England. With this all completed the sale of the house went through without any hitches as planned and we are now proud owners of a superb property in Lesvos.
Again we cannot thank Dimitra & Vaios enough for all the help & support that they have given us over the years, and if anyone is reading this and thinks as we used to: we would love to buy a property on the beautiful island of Lesvos please believe me when I say you cannot get better people than Dimitra & Vaios to help you out. They are so committed to you; it soon becomes clear that you are much much more than a client. There is an old saying which is 'beware of Greeks bearing gifts' but I must say this saying should be changed to 'be careful of Greeks bearing so many gifts you will be inundated' these are such special people that words cannot express our feeling towards them.
We long for the day when we move to Lesvos and can repay some of the kindness that Dimitra & Vaios have shown us, by inviting them to join us in our home for some food and ouzo just like they have done with us in the Madonna Studios in Vatera. See www.vatera-lesvos.co.uk
We wish Dimitra & Vaios along with Hibiscus Travel & Real Estate a great future, but we know that both businesses will go from strength to strength with Dimitra & Vaios at the helm, helping great many people like us to capture their dream of owing property in Lesvos.
With all the love in the world.
David & Joyce Scott.
Cumb